Vacuum Circuit Breaker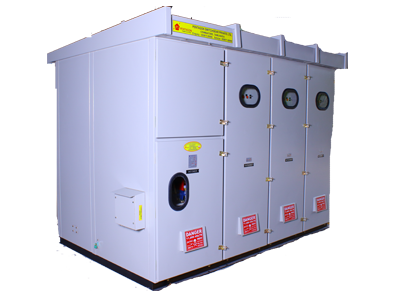 Pentagon Switchgear Private Limited offer H.V. Switchgear panels in metal clad enclosure, fully extensible with horizontal draw out Vacuum Circuit Breakers (single /multi lineup). These breakers are protecting the power transformers, HT capacitors bank, generators & feeders. These breakers are also used for starting the HT motors and auto re closing duty.
Salient Features
Confirm to IS2147, ICE-62271-100 IEC-60298, and IEC-60694.
Fully compartmentalized & Compliance to internal are as per standards.
Emergency tripping arrangement without opening the Breaker Chamber front door.
Self-aligning type cluster contacts for robust design.
Stored energy type spring closing mechanism.
Fully interlocked for operational safety.
Extensible & modular construction.
high reliability Re strike free.
Horizontal draw out Type.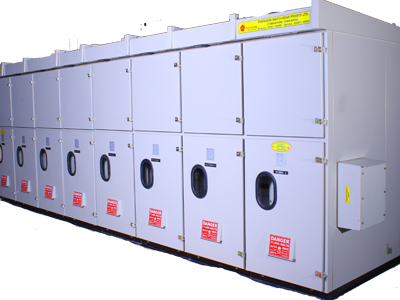 Pentagon Switchgear Private Limited offers Indoor / Outdoor Vacuum Circuit breaker. These breakers can be installed as per the requirement at site. Like indoor or Outdoor. The constructional details of Kiosk is explained below. It consists of manual/motor operated spring charged mechanism of stored energy type. In the closed state of the breaker, the closing springs can perform the duty operation. Facility is also available for hand charging the springs in the event of supply failure. The closing spring is charged by the motor in less than 15 seconds. Electrical anti – pumping feature is also provided. The mechanism is trip free and suitable for rapid re closing. The vacuum interrupters are capable of switching capacitive currents and small magnetizing current.
Outdoor vacuum circuit breaker
The VCB Outdoor Kiosk can be directly installed on a plinth. The power supply can be taken either through roof bushings or cable box or a combination of both. The CT's / PT's and Relays are inbuilt in the metal enclosure.
Construction
Metal clad VCB cubicles are fabricated out of high quality sheet steel by sophisticated manufacturing process, stringent in process quality checks and in house production of all critical components. The panels are vermin proof and with degree of protection IP 4X as per IS 2147 for Indoor Panel and IP55 for Outdoor VCB Kiosk Panel.
Vacuum circuit breaker panel consists of 4 chambers namely
Breaker Chamber
Bus bar Chamber
Metering chamber
CT/PT, Cable Chamber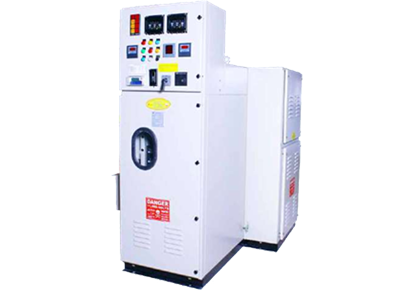 Breaker chamber
This consists of VCB mounted on a trolley, horizontal draw out type with self aligning type moving contacts. Fixed contacts are covered automatically by movable shutters while draw out the VCB, to ensure no direct contacts with live parts is possible, thus ensuring the safety of operator.
Metering Chamber
This consists of all meters, relays, switches, indicating lamps etc, and wired as per the specification of the clients.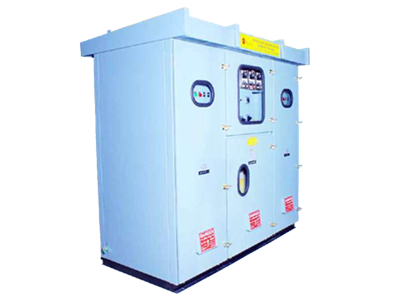 USS Bus Bar Chamber
The switchgear panels are provided with single / double bus bars with high electrical grade copper/Aluminum depends on the current rating. The 3 phase Bus bars are supported on strong epoxy insulation and fixed delta configuration which minimized Electro- mechanical stresses under short circuit conditions. Bus bars will be provided with sleeve insulation.
CT/PT Cable Chamber
The CT/PT & Cable chamber is located at the rear side of the panel and ready access is available by opening the rear cover with safety weld mesh. It is also possible to mount core balance CT's within the cubicle.
Earthing (options)
Earthing through a draw-out earthing truck with solid links on the bus bar / feeder side. Integral earthing switch, slow closing type or with making capacity.
Testing
All Our VCB's are tested before dispatch with Auto scan multi parameter Testing Kit. It ensures the quality of VCB.
The panels are powder coated with epoxy / pure polyester base paints to give aesthetically pleasing appearances. The pretreatment process is done by eight tank method. The paint shade shall be as per the requirement of clients.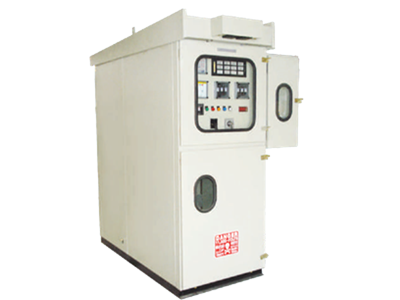 Interlocks
Interlocks are provided such that breaker closing is prevented in intermediate position between service and test/isolated positions.
Mechanical interlocks to prevent truck racking in/out when breaker is in closed position.
Breaker can be inserted only when control plug & socket in position.
Control plug & socket can be removed only in isolated position.
Mechanical castle interlock with upstream / downstream isolators can be provided on request.
| | | |
| --- | --- | --- |
| Rating | Unit | PSGVCB |
| Rated Voltage | KV | 7.2/12/24/36 |
| Rated Current | Amps | 630,800,1250 |
| Symmetrical Breaking Capacity | KA rms | 26.3/40 |
| Making Capacity | KA | 65 |
| Short time withstand current in 3 Secs | KA | 26.3/40 |
| Opening Time | ms | 45 - 50 |
| Total Break Time | ms | 55 - 70 |
| Closing Time | ms | 55 - 70 |
| Duty Cycle | | O - 0.3Secs - CO - 3Mins - CO |